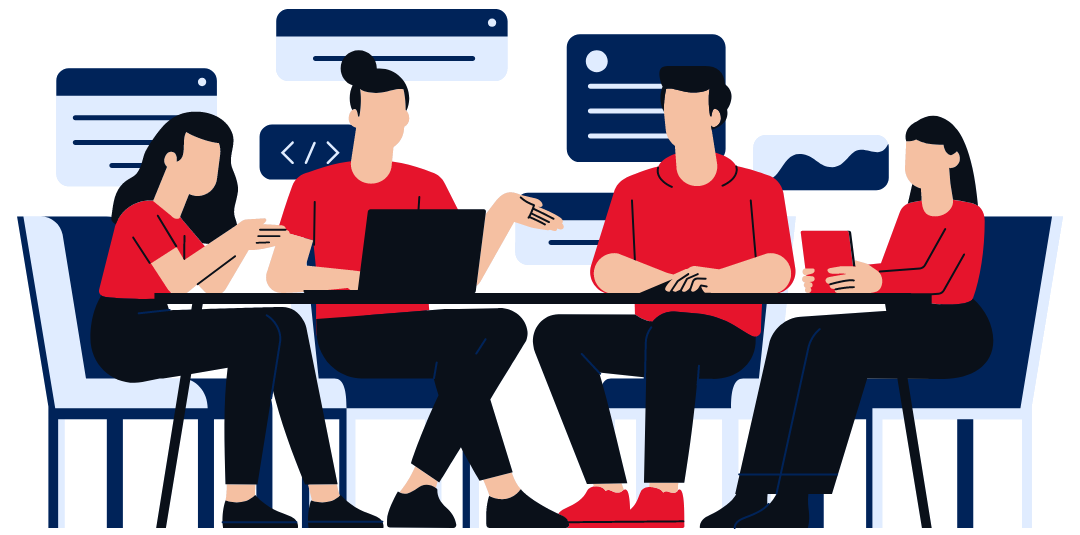 Join our team
!
Looking for Career Opportunities? We are constantly looking for people who want to become part of our initiatives.

If you are passionate, enthusiastic, and want to become part of Startup Greece, then we definitely are looking forward to hearing from you!
How will you benefit from working with us?
Have an exclusive access in the Greek Startup Ecosystem
Gain experience in the fast paced Startup Industry
Master hard and soft skills necessary for your future
Gain leadership skills by running projects from A to Z
Do your internship at Startup Greece
.
Through Startup Greece's International Internship program, you will have the opportunity to gain valuable insights on the scientific subject you want, contributing to the development and optimization of innovative actions; many of them with socio-political orientation.
Even if you have other skills and believe you can contribute to our mission, do not hesitate to apply, there is surely a career opportunity for you.

*You can review our open Internship Positions here.
Apply now
Looking for ways to develop your skills, gain experience and enter the labour market
?


Become a Volunteer

.

We are open-minded and more than welcome to have more people in our team. Do you share the same passions as us? Would you like to have more insight into the Startup Industry? Do you want to support the growth of the Greek Startup Industry? We would love to hear from you!

Apply now
Expand your career opportunities
.
If you share the same passion as us in the area of startups and you want to contribute to their development, while in the meantime being a part of a team that wants to help the ecosystem, look no more! Send us your cv for the following open positions.
See job openings
Testimonials
I was part of the team as an EU Project Manager intern for three months. Months spent in the organization were full of challenges, met new, interesting people, greatly improved public speaking and presentation skills. The friendly, warm welcome team, ready to help and answer any questions 24/7. I believe that the confidence I have gained in introducing the organization will be useful in my future career. I am glad to have discovered this organization and the people who work in it, who are so sincerely committed to their work and who believe in the idea of the whole organization.
Evelina Gruodytė
EU Project Manager Intern
2021
My 6-month experience was unique, fresh, valuable, constructive and enlightening. I entered the organization searching for and exploring a new field mostly outside my area of expertise, and since Marketing and Digital Marketing seemed fascinating to me, I joined with an open mind and ready to learn and to soak up everything. The team was very helpful and accepting and during my internship, I gained priceless and lifelong skills that will help me develop and grow in my future working career. Furthermore, I got an insight into how Marketing works as a profession and a general idea of the entrepreneurial and startup ecosystem. But, most importantly, I got the chance to work in a team environment and meet, interact and cooperate with new and exciting people from all over Europe, gaining precious friends and connections. It was undoubtedly a life-changing experience that will be etched in my memory.
Dimitra Dimitrakopoulou
Marketing Intern
2021
I chose the YEC because it is an NGO run by young people with an important mission which is to increase entrepreneurship. Promoting social entrepreneurship positively impacts our society. I contributed to inspiring young people and introducing them to entrepreneuriat.
At YEC I became conscious of the need for more entrepreneurs. I met local people who are involved in entrepreneurship. That would benefit me if I decide to start a business in Greece.
Vasilis Kottas
Intern
2017
If I had to make an assessment of these days, I'd say they were amazing. From the beginning, Thanos and the members of Youth Entrepreneurship Club have been very kind to me, like almost all Greeks actually. In my opinion, the main objective of an internship outside your country is to broaden your horizons much more than a simple Erasmus program. You learn to survive, adapt and live in another country with a different language, and at the same time respect the habits and values of each person. Perceive more differences between countries, and you can't realize it, till you turn off the TV and stop reading the daily newspaper of your country, and you decide to go out to see it by yourself.
Iris Fuentes
Erasmus Intern
2016